News for RepricerExpress
Jun 27, 2019
Amazon and eBay repricing tool RepricerExpress has released four new and improved features.
The new features include:
Setting products to their maximum price when they run out of stock, to protect profits when they come back into stock.
Improved setting for when the Buy Box winner increases their price, so you can incrementally increase your own price over time.
eBay bulk import improvements to include min and max prices, current price, the repricing rule to use, and whether automatic repricing should be on or off.
New eBay repricing setting for when competitors are below your minimum price.
Source: RepricerExpress
Oct 18, 2018
Marketplace repricing tool RepricerExpress has added support for three further international Amazon marketplaces.
RepricerExpress now works with:
Amazon.com (US)
Amazon.co.uk (UK)
Amazon Australia
Amazon Canada
Amazon France
Amazon Germany
Amazon India
Amazon Italy
Amazon Japan
Amazon Mexico
Amazon Spain
Existing RepricerExpress users can add the new marketplaces within their account now.
Source: RepricerExpress
Aug 16, 2018
Amazon and eBay repricing tool RepricerExpress is now available in the new Seller Central Appstore.
Brendan Doherty, CEO of RepricerExpress said, "At RepricerExpress, we're excited to be featured in the Automated Pricing category. We hope the new platform will help sellers quickly identify the integrated tools they need to support their selling needs on Amazon."
RepricerExpress offers Amazon FBA and Featured Sellers the flexibility to compete for spots in the Buy Box and More Buying Choices Box. The fast repricing allows all sellers to aim for higher positions in the Offer Listings pages, ensuring more buyers see their products. eBay repricing can either be based on competitors' listings (with various filtering options) or formula-based using Amazon prices.
Source: RepricerExpress
Jul 9, 2017
Marketplace repricing tool RepricerExpress now provides a detailed price history, has enhanced repricing rules, and includes new automations to automatically change strategy.
RepricerExpress provides detailed history for products' prices, showing when prices changed, why, position, competitor's prices, Buy Box information and sales. This is in addition to information on competing sellers, Buy Box history, sales performance and other specifics about repricing rules and frequency.
Repricing rule enhancements help sellers be more competitive, allowing prices to be set above MFN competitors but lower than FBA, or choosing to price only against sellers who hold the Buy Box, competiting against New price if lower than Used and much more.
Automations include:
Auto-detecting long-term storage fees due and moving to be more aggressive repricing rule to sell stock before Amazon charges its fees.
Auto-detecting low stock on Buy Box winners and moving to a very high-profit strategy until more stock is available.
Auto-detecting Price Wars and moving to a near Max repricing strategy to avoid throwing away all your profits.
Auto-moving products to a more aggressive repricing strategy if there have been no sales for six months.
Auto-detecting if products have moved from MFN to FBA and switching to a different pricing strategy.
Source: RepricerExpress
Mar 17, 2017
Amazon and eBay repricing tool RepricerExpress has released new features including enhanced Buy Box information, customization of "Price War" detection, more detailed product information and advanced filters.
Amazon sellers using RepricerExpress can now see detailed information about Buy Box performance from the dashboard, including which products are Buy Box winners, which are Buy Box eligible, and which recently lost the Buy Box. 30-day Buy Box percentages are also shown.
A new feature called "Product Status Preferences" allows sellers to define the parameters for flagging Price Wars, best sellers and low stock. Different parameters can be set for different marketplaces.
RepricerExpress also now shows much more detailed product information including pricing history, Buy Box performance, competing sellers and sales performance.
Finally, products can now be filtered according to sales, sales rank, category, Buy Box performance and more.
The company has new pricing strategy automations planned for release in the next few weeks, such as automatically moving to a more agressive repricing rule if long-term storage fees are due to take effect, or changing to higher pricing for products which are winning the Buy Box but have low stock.
Chris Dunne from RepricerExpress said, "We're constantly listening to our customers' feedback and the overriding request is for better data that can be automatically actioned to help sell more without constant checking of sales info etc. For example, by auto-detecting price wars, sellers will be able stop repricing down and avoid selling needlessly at low prices. Another common scenario will allow us to auto-detect stock that's due FBA long term storage fees and push to more aggressive rules, so that stock can be sold off before further fees are incurred."
Source: RepricerExpress
Oct 16, 2016
Amazon, Rakuten and eBay repricing tool RepricerExpress is running a competition throughout October to win six months of free service.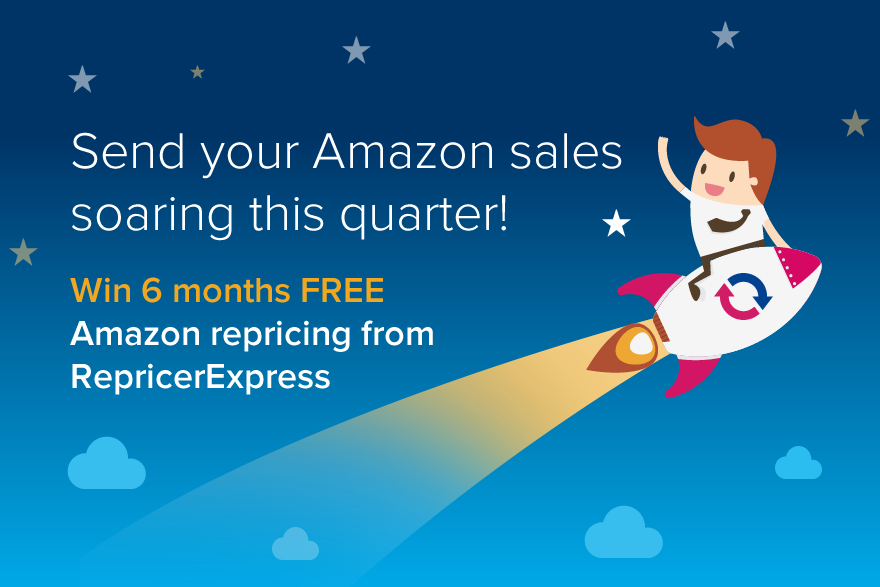 To enter sellers just need to sign-up for a free 15-day trial using code 6MONTHSFREE, then will automatically be entered into the competition.
Existing customers can also enter by emailing RepricerExpress, and extra entries can be earned by sharing the competition on social media.
The competition closes at 14:00 UK time on Monday 31 October 2016, and the winner will be announced the next day.
The prize is worth up to £540 (based on 25,000 SKUs).
Source: RepricerExpress
Sep 19, 2016
The Northern Irish company behind RepricerExpress and SellerExpress has launched a new Amazon feedback solicitation tool called FeedbackExpress.
FeedbackExpress is a cloud-based software solution that helps Amazon sellers automate and manage their feedback communication with buyers. The software is proven to help sellers get more positive feedback and product reviews as well as removing negative and neutral feedback quickly and effectively.
When sellers receive negative feedback on their Amazon account, FeedbackExpress alerts them by SMS and email. Professionally-written feedback and product review requests are provided to help increase feedback quantity and quality. Currently Amazon UK and US marketplaces are supported with plans to add further marketplaces in the near future.
FeedbackExpress has a free 30-day trial (no credit card required), then costs from £14.95 or $20.00 per month.
For Web Retailer members, the free trial is extended to 45 days. Visit the Special Offers page for more details and the offer code.
Lucid Interactive has been providing ecommerce solutions to Amazon sellers for over 13 years.
Source: FeedbackExpress
May 27, 2016
Marketplace repricing tool RepricerExpress now supports repricing on eBay marketplaces in the US and the UK.
Brendan Doherty, RepricerExpress CEO said, "We've listened to our customers and developed a state of the art eBay repricing solution that will work alongside their existing Amazon repricing, all within one RepricerExpress account. eBay repricing was the number one feature request for 2016 and we have developed a solution which we are confident will make repricing on eBay as efficient and hassle free as possible."
Current and new RepricerExpress customers will be able to add eBay repricing for free, as long as they stay under the maximum numbers of SKUs allowed on their pricing plan.
Unlike most repricing solutions, RepricerExpress allows eBay sellers to reprice both catalog and non-catalog products using sophisticated pricing rules, including the option to sync Amazon prices to eBay (plus or minus values and percentages if required).
The new eBay repricing rules can filter out competitors using inventory quantity, feedback rating, country, Top Rated Seller status and more.
Source: RepricerExpress
Sep 10, 2015
Amazon and Rakuten repricing tool RepricerExpress has extended a special offer for Web Retailer members to the end of the year.
The offer is for 50% off the first month subscription fee. For more details see our Special Offers page.
Source: Web Retailer Special Offers
Dec 15, 2014
Amazon and Rakuten repricing software RepricerExpress had a bug on Friday which reduced its merchants prices to only 1 pence.
The glitch happened on 12 December between 7pm and 8pm UK time. RepricerExpress CEO Brendan Doherty said the company was "continuing to work to identify how this problem occurred and to put measures in place to ensure that it does not happen again".
An Amazon spokesman told Sky News: "We are now reviewing the small number of orders that were processed and will be reaching out to any affected sellers directly. We responded quickly and were able to cancel the vast majority of orders placed on these affected items immediately and no costs or fees will be incurred by sellers for these cancelled orders. In the small number of cases where orders were processed, we are asking sellers to contact the third party software company responsible for their pricing in order to discuss next steps in terms of any compensation that may be due."
Source: Channel 4 News
Feb 24, 2014
Marketplace repricing tool RepricerExpress has now launched support for repricing on UK marketplace Play.com.
RepricerExpress joins ChannelMAX as the two standalone repricers with support for Rakuten's Play.com.
Jan 28, 2014
Marketplace Repricing: The Ultimate Guide explores the subject of automatic price adjustments on marketplaces such as Amazon and eBay.
Topics include how to get started, how repricing differs between marketplaces, avoiding the "race to the bottom", and repricing tools including ChannelMAX, RepriceIt, Price Spectre, Mean Repricer, Appeagle, BQool Repricing Central, RepricerExpress, Marketplace Repricing, WisePricer, FeedVisor and Teikametrics
Jan 10, 2014
Amazon marketplace repricing tool RepricerExpress will be launching support for Rakuten Play.com in early 2014.
Also on the roadmap are integration with the Amazon Subscriptions API for faster price updates, and options for continuous repricing and custom frequencies.
RepricerExpress is also running a survey asking what other features users would like to see developed in 2014.
Sep 5, 2013
Amazon repricing tool RepricerExpress is working on an integration of Amazon's new Subscriptions API, which will add to the features available in the software.
Seamus Breslin of RepricerExpress explained "Whilst it remains to be seen how the new Subscriptions API will impact repricing costs, reliability and frequency (has throttling limits like the Products API) there is little doubt it will make repricing software even better and more accurate for sellers who use those solutions that integrate with it."
Amazon, eBay and Play repricer Appeagle is also developing an integration of the new API.
Jul 27, 2013
A new product from the makers of SellerExpress has been launched, providing a dynamic repricing solution for Amazon sellers.
RepricerExpress allows users to automatically reprice all of their Amazon listings from a single interface. It supports several Amazon market places and integrates directly with users' Amazon accounts.
---
Do you have news about RepricerExpress? Let us know.