This post is by Alec Valencia, Merchant Development Manager at Rakuten USA.
With over 49,000 merchants, 115 million members and sales of $37 billion in 2019, Rakuten Ichiba is regarded as the most popular marketplace in Japan and one of the largest ecommerce platforms in the world.
Rakuten's ecommerce platform, called Rakuten Ichiba, began life in 1997. It's an online marketplace which allows a wide variety of vendors to sell their products, in their own way. Rakuten Japan does not sell any products itself – it's a pure third-party marketplace, founded on the idea that online shopping should be both entertaining and highly personalized.
Since 2005, Rakuten has expanded internationally through acquisitions and joint ventures. It launched its first business outside of Japan, Taiwan Rakuten Ichiba in 2008 and then went on to purchase Buy.com in the US (Rakuten.com) in 2010, Priceminister in France (Rakuten France) in 2010, Tradoria in Germany (Rakuten Germany) in 2011, and then Ebates (Rakuten Rewards) in 2014. Rakuten is also the single largest shareholder of Lyft and owns messaging app Viber.
Even with Rakuten's global expansion, and diversification into online media and sports partnerships, the core of its business is still deeply rooted in Japanese ecommerce. It's the current market leader and presents a compelling proposition to aspiring brands and merchants from all around the world.
Online shopping in Japan
When looking to expand into Asia, many ecommerce businesses think first of China – and why not? It's the most populous country in the world, with a fast-growing economy and a burgeoning base of young Gen-Z consumers, who are continually hunting for the latest must-have products through domestic online marketplaces such as Alibaba and Tmall.
However, Japan also has a large and mature ecommerce market. In 2019, Japanese ecommerce generated $90 billion in sales, compared to $365 million in the US and $670 billion in China. The GDP per capita in Japan is four times that of China, with more than 90% of consumers actively shopping online. To cap it off, unlike in the United States, return rates are extremely low in Japan.
In Japanese ecommerce, online marketplaces dominate the landscape and Rakuten Ichiba is the colossus – nearly one-third of all ecommerce in Japan flows through Rakuten's marketplace.
What is Rakuten Ichiba like as a marketplace?
Rakuten Ichiba functions like a massive shopping mall in the virtual world. When users log onto the marketplace, they're immediately greeted with a rush of colorful banners advertising the latest sales and events.
As a pure third-party marketplace, Rakuten Ichiba provides an open platform and a unique and highly personalized online shopping experience, with merchants at its core. The types of merchants selling on Rakuten include manufacturers, brands, retailers, and resellers.
Sellers each have their own landing page within Rakuten Japan that takes visitors straight to their shop on the marketplace. They have greater flexibility in the way that they design their page layout, making a more varied buying experience when compared to a product-centric site like Amazon.
Each shop owner on Rakuten Ichiba has complete control over how their products are sold and merchandised. Merchants can customize their storefront and update it as they like throughout the year, adapting to seasonal trends and updating product listings to appeal to new waves of users.
The overall model is somewhere between Amazon's catalog-driven approach where products are very strictly categorized and the looser listing-based approach typified by eBay.
What kind of products are sold on Rakuten Ichiba?
International brands are very popular such as Weber, Myprotein and Daniel Wellington, among others. In addition, there are a vast number of major Japanese brands. As a general rule, if you can't find a product locally in Japanese stores, Rakuten Ichiba will most likely have it.
Food, home, and apparel are the most heavily shopped product categories on the marketplace. Within these three, there are also several sub-categories, presenting a wide variety of products – most are well covered although some are more popular than others.
Fashion, for example, is one of the more popular categories, and offers great opportunities for international brands.
Who buys from Rakuten Ichiba?
Rakuten Ichiba has over 115 million customers in Japan, which is more than 90% of the entire population. It encompasses all corners of modern Japanese society, from students to housewives. Unlike Amazon Japan though, the demographic of shoppers on Rakuten Ichiba are typically female users between the ages of 30 and 50, and they are often making family purchases.
When compared with consumers in other parts of the world, the Japanese are fundamentally different in how they shop online. Rather than being motivated solely by price and convenience, they are much more concerned with overall quality.
By nature, Japanese people are careful and considerate in their decision making when shopping. They take time planning their purchases and research the best options available before making a decision to buy.
Rakuten store and listing design: a comparison
One successful merchant on Rakuten in Japan is Weber-Stephen Products, the American company behind Weber charcoal, gas and electric outdoor grills. In 2018, they decided to go global by opening a shop on Rakuten Ichiba.
Since launching, their storefront has undergone heavy renovation but none more dramatically than at the start of 2020. Below is a comparison between Weber's product category page for "gas grills" on their own website (left) and Rakuten Ichiba (right).
There is a stark contrast in the layout of the pages above. While Weber's own site has one main photograph and plenty of whitespace, the page on Rakuten makes heavy use of both text and images to provide a much richer page that would appear overwhelming to Western shoppers.
Here's a comparison between one of Weber's product pages on their own website (left) and Rakuten Ichiba (right). (These are long pages that have to be scrolled to view fully in a browser, but have been placed side-by-side in the screenshots below.)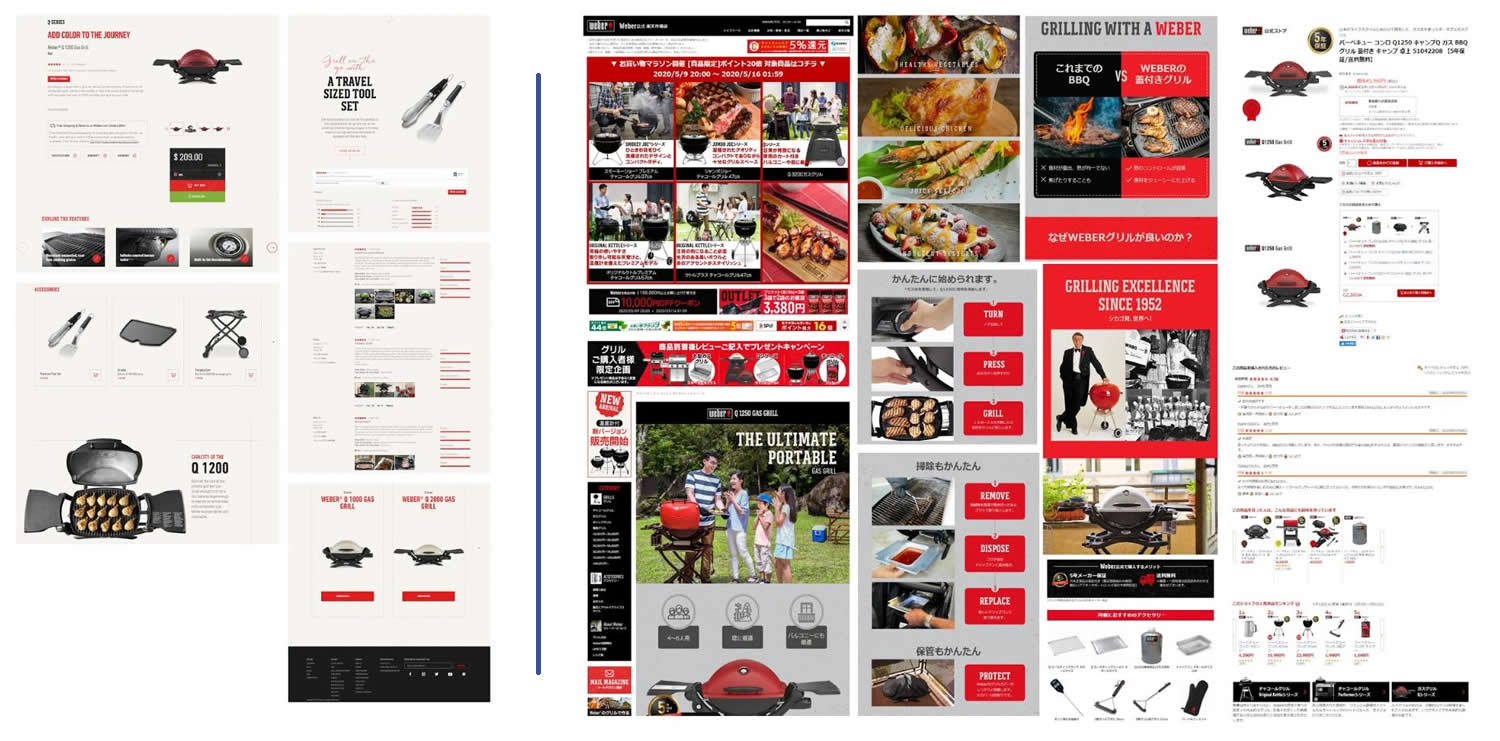 As before, the page from Rakuten Ichiba contains much more information with heavy use of images and relatively little whitespace. For Japanese shoppers, this detailed content centered around the key features and benefits of the grill really brings the product to life.
When selling to users on Rakuten Ichiba, it's crucial that merchants provide relevant and insightful information, using plenty of text and images. For emerging brands, illustrating their brand story like this is a great way not only to educate but also to instill trust in first-time buyers of their products.
As an international merchant, it's not enough to just splice content from a Western marketplace or online store and then translate it into Japanese via Google – you need to be thoughtful and create a new design with the Japanese consumer and market in mind.
The users on Rakuten Ichiba look for extensive content within product listings, regardless of the retail price, and will lose trust if information is not conveyed in enough detail.
Why do Japanese shoppers buy internationally?
In Japan, online shoppers buy from foreign brands and vendors for much the same reasons as consumers elsewhere. The top reasons are:
Better prices.
Access to items not available in Japan.
More variety and availability of different styles and sizes.
There are other interesting ways in which selling to Japan can complement selling in North America or Europe. For example, the Cole Haan women's sneakers below represent the average shoe sizes in Japan (6.5) and the US (8.5).
American merchants might find that stocks of smaller-sized items sell poorly at home, but can actually be quite valuable to Japanese customers. Shoppers in Japan will also be attracted if they can access products more cheaply than from local merchants.
How do merchants set up on Rakuten Ichiba?
To apply for a shop on Rakuten Ichiba, you must have an incorporated company registered in either the United States or Japan. Companies elsewhere in the world that are interested in applying will need a service partner to act as the MOR (Merchant of Record) and apply on their behalf, retaining ownership of the shop. Either way, the merchant needs to be fully involved.
Thankfully, Rakuten Ichiba has a network of partners that can set up and manage a shop on behalf of brands. They work behind the scenes as an intermediary, contracted with both the brand and Rakuten. Examples of partners include: i-Order and Commerce Robotics.
Screening and vetting
During the screening process, new merchants are rigorously vetted. There is a zero tolerance policy for any banned or counterfeit products.
After successfully completing screening, the merchant will receive an account login and can begin to create their storefront. Prior to opening their store, they have to submit the design for their shop and product listings, which will be reviewed to ensure that all marketplace guidelines are met.
In the past it was difficult for foreign companies to register on Rakuten Ichiba, because a lot of the screening and background checks required for the Japanese market could not be applied to foreign businesses. Today the onboarding process has become more streamlined, especially for brand owners and manufacturers who have publicly available corporate information and can easily prove their credibility online.
That's not to say only brands can sell through Rakuten Ichiba – there are plenty of resellers, but the product has to be genuine. Take Adidas shoes, for example. There are parallel imports of Adidas and other major brands, but the reseller will have to prove their authenticity by providing commercial receipts.
Application process
The process of applying is relatively straightforward.
First, submit an inquiry to Rakuten Ichiba, to get connected with a consultant. They will run through the cost and requirements, and evaluate your company via an online meeting.
If your company is ready to move forward, an application kit will be sent by email containing a set of required documents to be filled out and returned – your consultant will process these.
The screening involves a business verification and product review, and takes a minimum of 2-4 weeks. It's recommended to be transparent and share all pertinent information.
Next, you will be issued an account and can begin creating your storefront and product listings.
Prior to launch, your consultant will work with you to begin planning out your shop strategy. By working closely with your consultant, you will gain some valuable insights on how to improve sales.
Listing fees
On Rakuten Ichiba, there are four different pricing plans available for domestic Japanese merchants. For international merchants, these have been consolidated into one plan called Ichiba Basic.
Ichiba Basic costs involve:
A one-time registration fee of ¥60,000 JPY (roughly $560 USD).
A fixed monthly charge of ¥50,000 JPY (roughly $470 USD).
In total, you should expect to pay around 8% to 10% on sales including commission and payment processing fees.
If you enlist the help of a service partner, they may also charge commission, depending on the agreement you have with them so bear this in mind when considering the total cost.
Updating prices and working with your ECC
It's important to update your prices regularly. Exchange rates have been volatile in recent years – especially between the Yen and US dollar – so keeping prices in line is extremely important. Although customers in Japan buy primarily on quality, they are also price conscious. If they come across two products of equal quality they will obviously go for the cheaper item.
When a merchant goes live, Rakuten Ichiba assigns them an ecommerce consultant (ECC). He or she will act as an advocate for the merchant to navigate the marketplace's sales and trends and improve their shop to meet the demands of users.
There is a shared responsibility between the merchant and consultant and working together is mutually beneficial. The ECC will ensure that merchants are aware of their shop's performance and provide guidance and recommendations for advertising and ongoing shop maintenance.
Depending upon each merchant's needs, the ECC will schedule a virtual consultation to review the shop's analytics and share which products are selling best. The consultant will also inform them about upcoming promotions that they should be participating in, defined by product category. By actively joining sales promotions and events, both conversion rates and sales increase exponentially.
Making the most of selling on Rakuten Ichiba
As a marketplace, Rakuten Ichiba is defined by its seasonal sales and discount campaigns. It's important to understand the current trends and demand for specific products and adapt accordingly.
Throughout the life of a shop on the marketplace, it's not uncommon for a merchant to make incremental changes to their storefront and product listings, to build interest and drive user engagement.
Store operations
As a brand you need to have a dedicated resource, either someone within your staff or working closely with you, who can read and write in Japanese. Not only is Rakuten Ichiba's entire web interface in Japanese, it's also essential that your product localization is perfect for you to gain customers' trust.
As mentioned earlier, content needs to be of the highest quality to succeed, so it needs to be well written by a native speaker. Even if you have a content writer who speaks Japanese, their listing copy may not be good enough to compete with more fluent domestic stores.
To address this problem, Rakuten is working to find additional partners that can take on daily store operations, manage content creation and carry out updates, as well as providing a Japanese entity to act as the MOR (Merchant of Record) for the merchant.
Customer support
Rakuten is dedicated to providing buyers with the best customer service possible, so merchants need to provide, at the minimum, email customer support in Japanese. Many service partners can help with this for order confirmation, shipping notifications, and specific product questions.
Rakuten Ichiba has no set returns requirements for merchants to follow, so each shop can specify their own policy. In Japan, the order return rates are extremely low (between 3-5%), in contrast with the US (around 30%). This is a cultural norm for the Japanese.
Shipping orders
Geographically, Japan is a compact country so domestic shipping speeds are relatively quick. But customers are prepared to wait a little longer for their products if they are getting a unique item that they cannot find locally, or at a reasonable price in their country.
Rakuten helps merchants to communicate to users in advance that they're purchasing from abroad. They manage customer expectations by posting a notice on the top of the page displaying the origin, cost and delivery associated with the merchant.
International merchants can choose between direct cross-border shipping or in-country warehousing models. The best option depends on the nature of the products and the price points at which the merchant is selling.
If you use FBA (Fulfillment by Amazon) in Japan, you can make use of an Amazon service called MCF (Multi-Channel Fulfillment). This enables order fulfillment for additional marketplaces, but carries an additional monthly cost and commission and needs to connect with Rakuten Ichiba using a third-party API, such as Shippino.
Feedback and reputation
As with other ecommerce sites each Rakuten Ichiba merchant is rated through a feedback system. Customers can leave feedback for each product they purchase from an individual seller.
Ratings are divided into different factors such as speed of shipment, accuracy of item description, customer service, condition of the item and so on. Higher feedback levels can increase a seller's search rank, whereas negative feedback can damage that rank.
Sales optimization
Success or failure on Rakuten Ichiba can depend on how a company approaches the process.
Having the right keywords is an important factor to give you a competitive advantage, and your ECC can help with optimizing listings and growing sales. They know the market, have a good understanding of what does and does not work, and can guide content creators in the production of keyword-optimized content.
But once again, the key is quality. Japanese consumers have certain expectations. They want to know a lot about the products they buy, and are more likely to purchase products with thorough and highly detailed content descriptions.
Customers reward brands that offer good products and high levels of customer service. Getting the most out of the platform depends significantly on what a brand puts into it.
Regulations
Lastly, there are some regulations, product restrictions, and taxation considerations to bear in mind.
Some product types, including pharmaceutical, supplements, and beauty items may be subject to commercial import regulations, such as product registration and ingredient testing. However, quantities of less than 24 units are considered personal imports, meaning the goods are not subject to such restrictions.
However, some health products can be classified as medical goods, and will then require certification that they comply with Japanese safety laws.
On an individual basis, consultants at Rakuten Ichiba are able to research the market and provide both a competitive and regulatory analysis, depending on the product. If there are any potential restrictions, they will advise the brand or refer them to a partner with more expertise in that particular area, such as The Japan External Trade Organization (JETRO).
In terms of taxes and duties, if a brand is operating a direct cross-border shipping model then personal imports are exempt from duty if the value is under ¥16,666 JPY (roughly $150 USD). For personal imports that exceed this, then taxes and duties will be payable. As a result, many merchants will consider slightly increasing the retail price of their products so that they can provide free shipping to offset the total cost to the consumer.
Are you ready to sell on Rakuten Ichiba?
Rakuten Ichiba is the largest online marketplace in one of the most highly-developed ecommerce markets in the world.
It has an active and highly knowledgeable user base with plenty of demand for high-quality products that Japanese consumers cannot readily buy at home.
For foreign brands and merchants who approach it in the right way, Rakuten Ichiba represents a very exciting proposition.
Merchants can submit an inquiry to Rakuten to begin onboarding.
This post was by Alec Valencia, Merchant Development Manager at Rakuten USA.
This is an updated version of an article originally written by Ryan Miller in September 2016.