All brand-registered Amazon sellers in the US are now able to add product videos to their listings. The impact this could have for your brand is enormous.
90% of customers say videos help them make buying decisions, and conversion rates on landing pages with video increase by 80%.
In other words, having a product video on your listing is a game-changing addition that will give your product a competitive edge in a crowded marketplace. With over 60,000 registered brands on Amazon, it's an opportunity you can't afford to ignore.
Let's dig deep into Amazon product videos and learn how they can make your brand stand out. Within this guide, we'll learn who can use them, their benefits, guidelines and best practices, and finally we'll uncover the best strategies to use.
Do you have a great business idea, but you don't know how to get started selling online?

Helium 10. With Helium 10, you can find all the information needed to make data driven decisions.

The platform is packed with features that help you find new customers, drive sales, and manage your day-to-day operations.

So whether you're just getting started or you've been in business for years, Helium 10 has everything you need to take your business to the next level.

You can get 20% discount on Helium 10 with the following promo code: WEBRETAILR20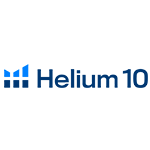 Get 20% discount on Helium 10 from us
---
Why should I use video in my Amazon listings?
Having a product video on your Amazon listing is one of the best possible ways to optimize that listing. Videos provide an opportunity to build a relationship with a potential customer.
Good videos highlight product features and benefits, and show its uses. Explainer videos dive deeper into what a product can do, or how it works, than any set of bullet points is capable of doing. Comparison videos show what the product is capable of, relative to the competition.
For shoppers, videos let them receive a large amount of information quickly. They inform them about how they are supposed to feel about a product, striking an emotional chord. It's information they want, so they're more likely to stay on your listing and keep watching if the video is providing value.
Videos are an opportunity to focus on product attributes without distractions, and show the buyer that they are getting exactly what they want. It's the best way to show the product's value, uses, brand information, and unique selling proposition.
Here's a great example:
Most importantly, product videos help shoppers understand your brand and product, help them to make a purchase decision, and increase sales.
Need more proof? Here are some numbers to back it up:
96% of consumers find video helpful when making online purchasing decisions.
79% of online shoppers would rather see a video to get information about a product than read the text on a page.
The right product video can increase conversions by over 80%.
Video can also help reduce negative reviews, by clearly stating what the product offers and what it doesn't, so buyers are less likely to buy a product that doesn't meet their needs.
Build a thriving Amazon business today!

Jungle Scout is the essential software that can help you win on Amazon and beyond.

With Jungle Scout, you'll have everything you need to make informed decisions about what products to sell on Amazon. You'll be able to see exactly how well each product is selling, what the competition looks like, and how much profit you could potentially make.

You can try Jungle Scout risk-free for 7 days.

Try Jungle Scout risk-free for
7 days.
---
Who can use video in their Amazon listings?
Product videos are not available to all Amazon sellers. At the current time, it is available to two primary groups:
Marketplace sellers, who own a brand registered in Amazon's Brand Registry. For sellers, video is available through A+ Content (formerly EBC) within Seller Central.
Vendors, who are brand-owning manufacturers that sell wholesale to Amazon. For vendors, video is available through A+ Content within Vendor Central.
Registered brands can also use video in Amazon Storefronts.
Note that while video is available to all brand-registered sellers on Amazon.com, most sellers in Europe do not yet have the option to upload videos. In the UK and elsewhere in Europe, video is still limited to vendors only.
If you are a marketplace seller with an unregistered brand or no brand at all, you are limited to video posted by customers in reviews.
What this tells us about Amazon and product video is that Amazon is focused on providing the best features to brands that are trusted and generate the most sales. If you're not one of these brands or sellers, your options are very limited.
What does it cost to add a video to a product on Amazon?
For brand-registered marketplace sellers, adding a product video to your listing or Amazon Storefront is free.
Unfortunately, vendors must pay extra to use product video. It's considered a premium module and costs around $1500 per detail page, which covers one ASIN variation family.
For all brands and sellers, product video posted in a customer review is free, although this is not something you should try to control directly.
In terms of video production costs, high-quality product videos are cheaper than ever to produce. With advances in camera, editing, and lighting technology, video has become very cost-effective.
How do I add a product video to my Amazon listing?
From here onward, we're going to primarily focus on brands selling through the Amazon marketplace, and posting product videos via A+ Content in Seller Central.
The process of adding video to a product listing is fairly simple and straightforward:
Go to your Seller Central account.
Click on Inventory.
From the dropdown, select Upload & Manage Videos.
Click the Upload Video button and select your video file.
Enter a title and the ASINs that are related to the video.
Select a thumbnail (preview image) for the video.
Click the submit button to send the video to Amazon for approval.
The review process can take up to a week, and sometimes longer. Once it's approved, the status will change to "live". The video should appear on product detail pages for the related ASINs within two days, as long as there are no more than six images already assigned.
Should I hire a production company or create product videos myself?
When creating a video for your brand's products, you have two main options: either create the video in-house, or contract the video creation out to a production company or agency that specializes in Amazon product videos.
Which to choose is ultimately dependent on your budget, time constraints, and expertise of in-house personnel vs. an agency or production company.
Regardless of whether you do it yourself or not, you'll still need to be very involved in the process in order to maintain the integrity of your brand, and assure the highest possible quality of the resulting video.
For most Amazon brands and private label sellers, the best course of action is to invest in professional-grade video production. You want to have your brand and its products represented at the highest possible level, and an investment in professional video production will pay for itself with increased sales over time.
What should I think about in pre-production planning for a video?
Pre-production and planning are the keys to success in any form of video production, whether it's for your brand's newest widget or Marvel Studios' latest blockbuster.
In the case of your product video, it's crucial to carefully consider how you want to present your brand and your product, and the product information to include.
How is your brand positioned, and how will the production present it? Is it high-end or a product for the masses?
What features and benefits of the product, and how are they solving a problem for customers?
How do you present your product in a way that helps customers understand it, and want to buy it?
What questions do customers commonly ask, and how can you answer them in the video?
Are there product variations? Do these require separate videos or can they be rolled up in one?
You're making a product video to showcase your brand's products. As such, you'll need to make sure that your branding stays on point throughout the process.
What are the different types of Amazon product video?
There are four common types of video most often used for Amazon products.
1. Product highlights video
This is clean, simple, and focuses completely on the product. It can be as simple as a 360° view of the product on a white background, or might be a more complex video with close-ups and shots of the product in use.
Here's an example:
Which type is right for you depends on your product. Some items, like clothing or footwear, benefit enormously just from being shown from every angle. For other products, it's important to help the viewer understand their features as well as their appearance.
Think about how someone would interact with the product in a physical store, and try to recreate that experience in the video.
2. Customer experience video
This type of video is designed to show the product in use by customers, this helps potential buyers understand the product better and see what it can do.
Here's a great example:
This type of video is ideal for products which are interacted with directly – where the product is the experience – such as toys and beauty products. The video will help buyers understand what the product can do for them and what they will feel from using it.
3. Explainer video
This type of video is really focused on the benefits of the product and how it can solve problems for customers. A great script with persuasive copy is key here, whether the words are spoken aloud or shown on screen.
Here's an example:
An explainer video is often best for products that, well, need explaining!
The benefits of some products, such as the nutritional supplement shown above, are not clear from their visual appearance alone. A video that shows how the product is used and what the value is to the user is a great asset.
4. Comparison video
This type of video shows the product in comparison to competing products, or in comparison to the outcome if a customer did not have this product in their life.
This can work well when there are many similar products being sold, and your version solves key problems with those other products, or has other important differences which the buyer will want to know about.
You don't have to talk about competing products by name but you can, for example, explain that other products have handles that are hard to grip or include parts that work loose, and show how your product provides a fix to those common issues.
How should I go about writing the script for my video?
If you've never prepared a video script before, you might think, "How hard can it be?" The answer is pretty hard – especially for shorter videos.
The ideal length for Amazon product videos is less than one minute, but it can be longer. However, once you've gone beyond two minutes, your video won't have the impact or attention you'd like. The best rule of thumb is: the shorter, the better.
In a script for a one-minute video, every word and image count. You'll need to introduce the product, its benefits, and its uses – while keeping it engaging and in sync with the right images.
This is a good time to hire a professional script writer or copywriter to distill your message down, present it in a compelling visual and narrative way.
You also need to consider narration. Will there be an on-camera narrator or an off-camera voice over? Maybe there is no narration at all, but the story is told with images, captions, and graphics?
Consider the goals you have decided in pre-production, then choose the format that best helps you convey the right information to your ideal customer.
What kind of music should I choose for my product video?
Especially in a short video, having the right piece of music is essential for the viewing experience.
You don't want to overwhelm the narration or distract the viewer, so have your music be complementary to the rest of the presentation.
Make sure that you do not use copyrighted music without permission. There are many websites specializing in low-cost music for video soundtracks. Look for royalty-free music, but bear in mind that royalty-free does not mean completely free, it just means that the cost is not based on how many times the music is heard.
Be sure to get the highest quality download possible, to provide your video editor with flexibility in how they use the music. Bad audio can ruin even the best-looking video.
What do I need to have ready before filming starts?
Whether you are producing the video yourself, or using a professional production company, there is a lot you will need to have ready before the cameras start to roll.
Have high-quality digital and/or physical logos prepared to insert in the video. You could use your brand colors in the background, or perhaps even in the clothing choice of on-camera talent.
Create graphic elements, gather high-quality photos and get your music files ready. If you are doing your own filming, prepare the space and test all equipment.
One of the most important things to remember is to have multiple copies of your product for filming purposes. Use the best-looking ones as "hero" products for close-ups and product shots only. Use different items for showing the product in use, and keep cleaning supplies on-hand to touch products up if needed.
Why the overzealous attitude to cleanliness? You might be surprised how easy it is to see fingerprints and dust specks in close-up shots.
What are Amazon's technical requirements for product videos?
As with all content on the platform, Amazon has very specific guidelines when it comes to the technical aspects of product videos.
Export the file from your video editing software at the highest available quality setting. Acceptable file formats are 3GP, AAC, AVI, FLV, MOV, MP4, and MPEG-2. Avoid Apple ProRes file format.
The thumbnail image should be a JPEG or PNG file format in 16:9 aspect ratio and a minimum of 1280 x 720 pixels (1920 x 1080 is preferred).
Why did Amazon reject the product video that I uploaded?
Your Amazon product video is subject to approval based on the terms specified in Amazon's Video Content Policy. As such, there are a number of things that would constitute a violation of those terms, resulting in your video not being approved.
Here are some examples:
Unsupported or inaccurate claims about the product.
Derogatory remarks about competitors.
Referencing your company as a seller or distributor, or providing any company contact information.
Including prices, promotions, discount claims or time-sensitive information.
Modifying the manufacturer's warranty, or offering your own warranty.
Mentioning customer reviews that contain inaccurate product information, asking for positive reviews, using reviews more than a year old, or editing reviews to change their meaning.
Claiming that a product can lead to weight loss without following a balanced diet and doing exercise.
Including web links or calls to action that direct the viewer away from the page, or away from Amazon in general.
Implying celebrity endorsements or infringing on others' intellectual property.
Being controversial, socially insensitive or politically divisive etc.
As you can see, there are many ways to violate the Video Content Policy. It is quite possible to do so accidentally if you have not read the policy carefully from start to finish, particularly if you try to use humor in your script or have a product that is in any way sensitive.
Having to re-shoot or re-edit a video due to avoidable policy mistakes will be time-consuming, costly and frustrating.
Is there any way to add a product video on Amazon without a registered brand?
If you'd like the benefit of product video but do not have a brand, or you have a brand that is not part of the Amazon Brand Registry, then you are limited to only one option.
That option is a customer review video. A customer may post a review to your listing and include a product video with it. If you have a great product with stellar customer service and an optimized listing, then you might find that review videos get submitted without you having to do anything else.
Do not submit fake reviews so you can add videos, or use one of the shady services which promise to add video reviews to your listing. Amazon might not catch up to you for a while, but when it does those actions risk permanent suspension of your seller account.
To enjoy the full benefits of product videos, as well as A+ content and a level of brand protection, your best option is to get your brand into Amazon brand registry.
Thank you to AD.JUST Video Production for providing the example videos and images used in this article. AD.JUST Video Production specializes in ecommerce video production and product photography services for Amazon, Shopify and eBay sellers.